It's the last day of my week-long vacation. The jetlag works in my favour; I'm up and about, nice, and early. I have only one thought on my mind. The week flew by so fast! Tomorrow morning, I will be back in Singapore, back home. I will be reunited with the munchkin and the husband, leaving behind a big chunk of my heart here, also my home.
I visit the nearby Shivan temple, the one that has heard my childhood laughter, my tears, and my demands for miracles. The same temple that played devotional songs that kept me company when I woke up at 4:30 AM to study. Only on examination days, of course.
It's a cloudy day. It rained the previous night, and the roads are flooded and filled with potholes. I grin. Some things never change.
The temple is near-empty. Everything seems to have changed, especially the Gopuram. I offer my prayers, whisper my wishes into Nandi's ear reminding him to put in a good word for me with Lord Shiva, and head back home.
"Amma, the Gopuram is now triangular! It used to be circular!" I wail.
"It was renovated. They consulted the temple astrologer, and he confirmed that they could go ahead. It is a better structure," she replies nonchalantly.
I remember the old Gopuram. It's firmly etched in my brain and my heart misses it. This loss of familiarity unnerves me.
When I myself have changed with times, why wouldn't the temple too?
***
Amma reminds me about one more place that I have to visit.
"Go to Attukal. Your Amma is waiting."
Yes, I have another mother in Trivandrum, Attukal Bhagawathi. The same Goddess who guided me in the most difficult phase of my life, when I was barely a teenager, and Appa passed away. The school I studied at, Chinmaya Vidyalaya, is just next to the temple and holds a special place in my heart. Every year, the Pongala festival is celebrated here. This event is world-famous, holding the Guinness book record for the most women gathering at one spot, and offering sweet brown rice to the Goddess.
I offer my prayers at Attukal. The stern yet benevolent countenance of the Goddess greets me. I pray for health, peace of mind, and happiness for my family.
"Please can you make my writing dreams come true?" I plead to her shyly.
Both my Ammas know that all I have ever wanted to be is to become a writer.
I then go to the snake grove and listen to the Pulluvan Pattu, a devotional song to the serpent Gods. I then bid adieu and promise to return soon.
I board an auto hoping to pass by my old school. Long ago, there was a route I took every day, one abounding with lush green rice fields; I wonder if the fields are still there. To my disappointment, the auto guy takes a different route.
Some other time, then. 
***
When I reach home, I find my purchases scattered over the bed. I'm beginning to regret my shopping extravaganza. If I have to pay for excess luggage, am I better off buying things in Singapore itself, exchange-rate adjusted?
Packing for air travel is an art, perfected by Amma. She has this knack for making sure that the weight limits are never breached, and every single item is packed. Amma's bags are filled with love, snacks, and the odd-shaped utensil that turns out to be a lifesaver, later on.
"Amma, come to Singapore!" I beg her.
"This is my home. This is where I belong. Don't uproot me!" she dismisses me.
"But Amma, worrying about you kills me."
"Silly girl! I will come for a visit. But let COVID go away for good, first."
COVID. Monkey Pox. When will this end?
***
I know Amma is upset that I am leaving tonight. She hides her sadness by keeping busy.
"Amma! Don't pack all of that! I'm traveling on a budget airline!"
"Tsk, tsk, you fusspot. These brass lamps will be perfect for your pooja room. And here is the gardening set you presented me with, which I never used."
"The spades and shovels are like weapons. Weapons not allowed on the flight!" I protest.
I take them out, as Amma clicks her tongue in exasperation.
"We will go overboard with the weight."
Amma shushes me. She takes out a weighing scale and comes up with an ingenious plan.
"OK. The VIP won't fit onto the scale. So here is what we will do. Stand on the scale. Measure your weight. Get off. Stand on it again, clutching the VIP. We subtract to calculate the weight of the luggage."
After the humiliation of using my weight as the base and the further embarrassment of my struggle with mental math, the baggage is weighed. By some weird algorithm, Amma distributes the luggage between check-in and cabin. We are within the limit.
Phew!
I spot a hardbound book that I won in the fourth grade, with a certificate on the front page.
"Amma, I will take this."
"This she will take. Anything useful, she won't take!" my mother retorts in exasperation.
***
The hours trickle by and it's time to go.
We end up repeating the same promises, giving each other the same assurances, and hiding our tears from one another. I finish dinner, pray, then touch Amma's feet.
"Come in December to visit me," she says softly.
I don't say anything because then I will start crying. If I cry, she will crumble.
"And bring my son-in-law and grandchild too."
I nod.
The auto arrives at the stroke of eight. I don't cry when I load my luggage. I don't cry when I close the gate. I don't cry when I get into the auto.
It is when the auto driver asks me if I am ready, that the floodgates burst. My tears flow freely and uncontrollably, wetting my mask.
Amma is crying too. She waves at me, and I wave back. I keep craning my neck until she disappears into the distance. As I stifle my sobs, I see the auto driver also wiping his tears. Now, that's a first.
I arrive at the airport and clear the formalities that take me to the boarding gate. The giant Kathakali at the Departure terminal seems to be waving me goodbye. My flight is only in two hours, giving me ample time to walk up and down.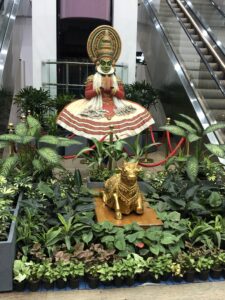 At one point, one of the eateries calls out to me. The cutlets entice me, but sadly their prices don't. A slice of black forest cake costs a kidney. In our college days, they sold for 20 rupees a piece. That and Sharjah shake. The price tag on this particular slice says 200 rupees. My middle-class mentality kicks in and I walk away, mumbling 'daylight robbery' under my breath.
Amma would have been so proud!
Finally, it's time to board and I am on the flight. The plane takes off and I watch the lights of Trivandrum International airport fade into the distance.
***
I land at Changi airport the next morning. I clear all formalities and reach the exit.
The husband has promised to pick me up. But who do I see along with him? Our munchkin! I'm touched! She woke up this early to welcome me. The poor darling must have missed me.
I must do this more often. Near good, dear good, economics, and all that jazz.
Munchkin wraps me around in a giant panda hug. Once the initial excitement is over, she asks.
"Amma did you bring banana chips for me?"
Ah, 'chip' off the old block. Pun intended.
***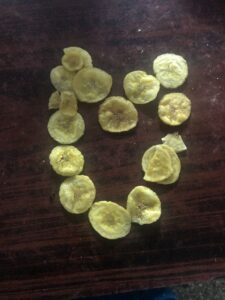 Cover Image credits: Pixabay